"Brass" Name Plate
This is a simple but beautiful way to portray yourself on the web. A plate like this could feature your name or be the design of a menu bar. How fun is that?
Toy Letters
These letters are rendered using only Illustrator and Photoshop, using a variety of techniques.
Wooden Plaque
This looks like a wooden plaque with pets eating from a dish carved and stained into a 3-d image, but started as a simple line drawing taken from a photograph.
*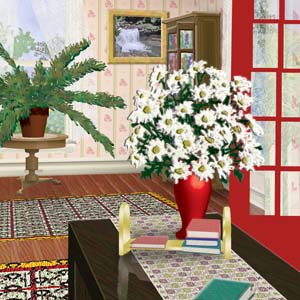 Living Room of the Big House
A major project, rendered almost entirely in Photoshop — Illustrator was used in the construction a few of the items. The cow and the pictures within the frames are photos.
"Wooden" Picture Frame
This is a detail of a "wooden" picture frame, with wallpaper behind. The rose was drawn in pencil, then scanned, colored, and enhanced. The rest of the wallpaper and all of the frame are computer-rendered.